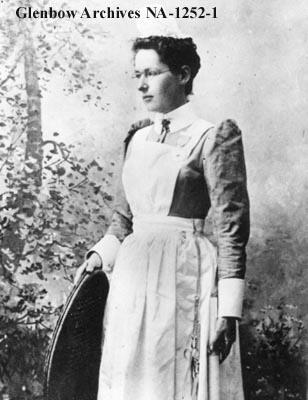 Marion Moodie, one of the earliest residents in the area that is now Glenbow Ranch Provincial Park, epitomizes the Albertan nurse — a devoted and essential professional.
From the age of 12, Marion wanted to be a nurse. In 1891, when she was 24, her family moved from Quebec to Glenbow. On their isolated ranch, Marion tended to her family's injuries and ailments: her brother contracted typhoid, her three little cousins caught scarlet fever, and her mother became fatally ill.
Her family moved to Calgary, and in April 1895 Marion began her formal nursing education, as a probationer at Calgary's cottage hospital. In this volunteer position, she worked the nightshift at the nine-bed hospital (soon replaced by the new City Hospital). After two months, Marion qualified as a student nurse.
For the next three years, her work was exhausting and hazardous. Disease transmission was poorly understood, and antibiotics and many vaccines had not yet been invented. While caring for the sick, Marion succumbed to typhoid and was bed-ridden for seven weeks.
On 25 July 1898, Marion Moodie was the first nurse to graduate in what would become Alberta. She spent the next six years travelling to patients on ranches and in small towns. Expectations were high, working conditions were primitive, and the pay was insufficient (and sometimes nonexistent). Then, as the hospital nurse at Frank, AB, Marion looked after eight hospital patients, treated outpatients, administered anaesthetic, cooked patients' meals, and — when time permitted — milked the cow and scrubbed the floor.
Returning to Calgary, Marion worked as a private nurse, packed supplies for the Red Cross, and was assistant matron of the Ogden veterans' hospital during WWI. In 1917, at the age of 50, she enlisted in the Canadian Army Medical Corps and became Nursing Sister in Charge of the hospital. After the war, she worked at the Ninette Sanatorium, MB, before moving to Quebec to care for an ailing relative.
Marion Moodie's dedication to providing the best health care she could, wherever it was needed, is echoed by today's nurses. We are indebted to all those who work tirelessly to keep us healthy.