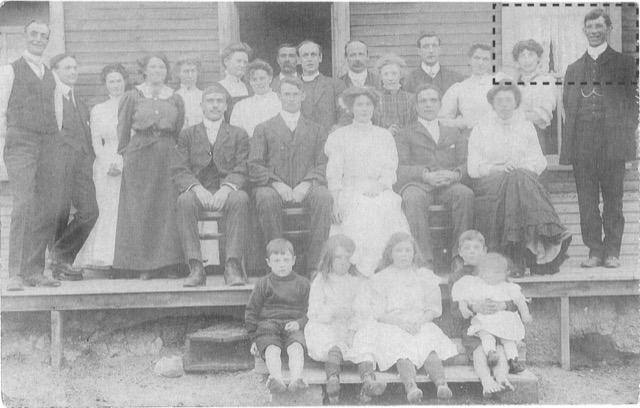 Parenting is never easy, but can you imagine what it was like a century ago? Currey and Betty Wearmouth had the largest family in Glenbow, and Betty rose to the challenge.
In 1910, when Currey returned to Glenbow to work at the quarry, he was accompanied by Betty and their first baby, Stennard. Their house and land holdings at the Glenbow townsite, in today's Glenbow Ranch Provincial Park, expanded over the next seventeen years, just as their family did. During this time, Betty gave birth to eight children: Ken, Frank, Nellie, Roy, Irene, Peggy, Doris, and Donald; her tenth child (Jean) arrived after the family's 1927 departure from the townsite.
Betty cared for her Glenbow home and family without access to our modern conveniences like running water, electricity or telephones. On bath nights, she began with the youngest child and dipped each in succession into water heated with the nearby stove. Every evening she sat sewing and mending clothes. Her days were filled with chores and childcare.
Raising children at Glenbow was an adventure. Betty evicted the assorted wild animals that the children attempted to adopt, including a coyote and a porcupine. She dealt with hunting trophies, such as the skunk Frank and Roy brought home. She answered calls for help with whatever means were at her disposal, like the time a badger bit Frank's thumb and she used the spoon she happened to be carrying to pry the badger off Frank.
However, despite her best efforts, Betty could not protect her children from the harsh realities of the human condition. Every parent's worst nightmare occurred with 16-year-old Irene's death, from spinal meningitis. Then, during WWII, Ken, Roy, Frank, and Donald (aged just 17) enlisted. For years, Betty and Currey maintained strict silence during the nightly radio broadcasts of war news, as they strained to hear the fate of their sons. Eventually, their hopes were rewarded with the safe return of all the boys.
Although Betty and Currey faced specific challenges that differ from those of the modern era, like us, they did the best they could with the resources available at the time. They provided loving care for their children and tried to guard them from harm. Perhaps parenting a century ago was not so different from raising children today.